Trainee Became Counsellor : Story of Budheliya Mehulbhai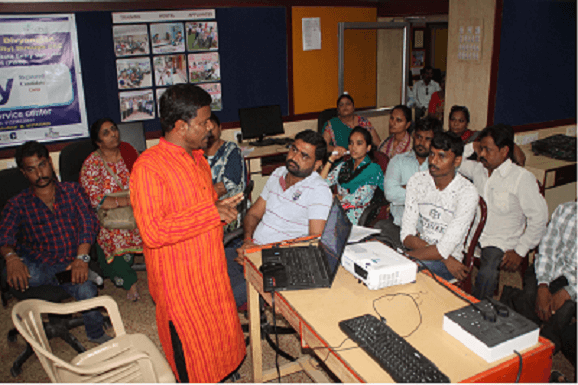 Budheliya Mehul Dhirajlal
Plot No. 1762/B, Akshardham-2,
Kaliyabid, Bhavnagar
Cell No. 9925530400
Disability : Orthopedic Handicapped
Monthly Salary : Rs. 18000

After passing Std. XIIth Mehul Budheliya was unable to start his own business due to poor economic conditions. It was necessary for him to have computer skill for getting a job. Again his economic condition didn't allow to manage fees for the computer course classes. He joined the AT&T Technology Park of the PNR Society where disabled youths are being trained in computer skill without any fees and with free lodging and boarding. He worked as computer operator in the admin office of the PNR Society successfully. This is not all. He learnt computer repairing also without anyone's help. He left his job when he bagged the Data-Entry contract. He got an opportunity under Sarva Shiksha Abhiyan of the government as zonal to work as co-ordinator of Bhavnagar Taluka and Ghogha Taluka. He managed computers for 170 primary schools of these taluka and supervised the use of computer laboratories by students and teachers of these schools. He also rendered his expert services to local Takshshila Computer Laboratory as Project Co-ordinator. He then bagged contract as service provider in Bhavnagar-Kochuveli train of the Railway Department.
Last but not the least Mehul Budheliya walking inspite of having only one leg kept himself busy for the cause of the disabled. Testimony of his noble task has been his gesture of publishing a monthly entitled "Viklang Vacha' in Gujarati describing avenues and support for the disabled. At present he draws Rs. 18,000/- salary per month as Counsellor in AT&T Technology Park of the PNR Society.