Awareness
Awareness programms
to search beneficiaries

Education
2000+ young student
beneficiaries

Training
2000+ disabled youngsters
completed training

Placement
1000+ transformed youngsters
joined mainstream

1. Awareness
AT&T Technology Park and Institute focuses on building capacities through its various skill development programs for specially-abled youth. This core activity of the organization has been helping hundreds of people with disabilities year after year in acquiring suitable skills and preparing themselves to take the challenges of employment and income generation.
We started with the initial purpose of creating awareness about issues concerning the differently-abled in the areas of Education, Vocational Training, and Employment. We have an active awareness program by reaching out to potential students in rural India through "Words of Mouth" as well as webinar set-up at local levels. We continue to strive to raise awareness among donors and differently-abled youth to participate in our programs in order to ensure a better living for themselves.
We are also working on awareness programs for teachers of the institute regarding teaching methods, evaluation procedures, and other challenges that they should be aware of while dealing with differently-abled students.
2. Education
AT&T Technology Park and Institute is a vocational technology training center, started by PNR society in 2001 which aims at providing vocational courses for skilling and up-skilling youth with special needs (visual, communication, and locomotive disabilities) by training them through our various programs which focus on operating computer, social media, and mobile repair, to enable them to create employment opportunities for them. Also keeping in mind the new opportunities technology provides and the fact that it actually provides a level playing platform for the differently-abled, we have expanded the reach by our Online Courses ( for more details go to the Online Course details). This has helped us to reach more children in rural India.

3. Training
Along with the education programs we at AT&T also provide various trainings which help them to sharpen several skills, and improve their employment opportunities. Most of our students come from rural areas and are not well versed with English. To enable Technological learning which is mostly in English, we arrange various workshops to teach them English. We promote a blended learning methodology to invoke interest, curiosity and inspire engagement. Alongside, we also provide on-the-job training programs to invoke independence and confidence in the students. We work closely with various local institutions to give Internship programs before they find their final placements.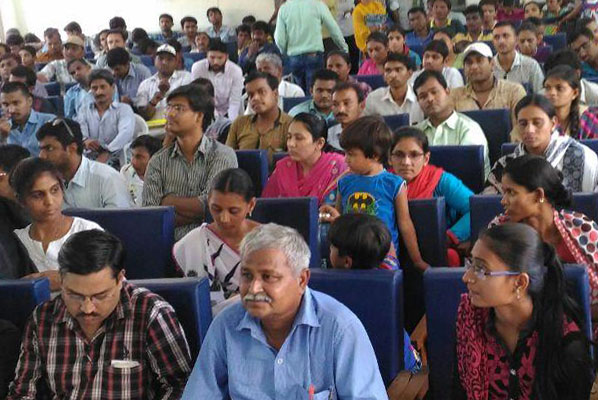 4. Placement
The final objective of the "transformation" program is to place them successfully to build-up their future.
To help our students find meaningful careers, we collaborate with numerous placement agencies, local communities, corporations, and student alumni. It has helped hundreds of differently-abled youths change their lives forever through our various programs.
With the new Vision to integrate new technological developments, Online programs are taking shape to increase the reach to new students and also to improve the scope for the existing student. We also provide online placement guidance. As we create these support platforms, we will be able to reach out to more students and businesses, demonstrating the value of technology.
We are also preparing the students to get ready for the WFH (Work from Home) which will aid them to work through the digital platform. We will also introduce them to various new working cultures like E meetings, webinars, and E presentations.