"Creating opportunities for differently-abled to become self-reliant"
AT&T Technology Park Technology Park is a vocational training centre, started by the PNR society in 2001. It aims at providing vocational courses for skilling, and up-skilling youth with special needs (visual, communication, and locomotive disabilities) by training them in operating computer, internet, and mobile repair. We at AT&T Technology Park take a long-term systematic approach to transform special youngsters into mainstream members of society. The Objectives are at the core of the various programs we undertake.
AT&T Ecosystem

Access to database of differently abled youth at district and taluka level
Webinar / Education camp at district & taluka level
Identification, Eligibility & Registration of the students
Objective
Serve as a centre for developing vocational training programs for specially / differently-abled youth
Develop an online learning web platform for disabled students to enable any time learning without geographical boundaries.
Aims to boost self-esteem, encourage self-care, and raise awareness of one's residual abilities, worthiness, and utility.
Provide vocational training to develop skills and knowledge to broaden the spectrum of employability.
Encourage self-employment/ and paid employment
Guidance and help in placements
Offer supportive services such as counselling and assistance to help people establish a positive personality.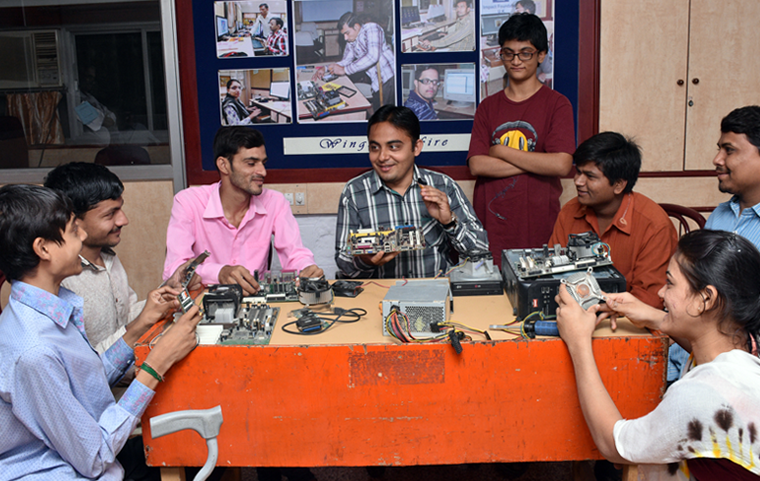 Overview of the Program
AT&T Technology Park training module is presently being offered both in Offline Vocational Training programs and Online Vocational Training programs.
Type of Courses:Online and Offline
Level of Courses:Basic, Intermediate, Advanced, and Expert
During a selection process, students will appear for a mock test, and accordingly, the level will be allotted to them. Those who have done prior courses will be given advanced and the above level and who has no experience will be allotted a basic course.
Duration:3-6 months
Capacity:25-35 students per batch
Courses
With these programs, AT&T Technology Park's vision is to make the Divyangs (differently-abled) financially independent. We highly prioritize the employment and empowerment of people with disabilities, and these courses are run to lift divyangs from the grip of poverty and differentiation. AT&T Technology Park helps them in all possible ways to make them become self-dependent in life and earn their food. Besides providing valuable skills, they are also facilitated with supporting tools and materials for practical learning which add value to their training.
Hardware and Networking
This course helps in building user-level knowledge and proficiency with computer hardware and software to present fundamental skills and concepts.
Animation
In this course, our students learn animation theory and mechanics, develop observational and drawing skills and study the fundamentals of character design, layout, and storyboarding.
MS Office
This is one of the most extensively used platforms in any employment. MS Office proficiency is an absolute must-have for any resume to compete for a job. In this course, we cover basic to advanced topics of Microsoft Word, Microsoft Excel, and Microsoft PowerPoint.
Video editing
This course will help students understand the concept of cutting and editing videos. This is done through hands-on, practical training in various video editing software.
DTP & Photoshop
Desktop Publishing and Photoshop are part of our advanced courses, this training program deals with educating the students about the use of software for graphic designing and creation of different types of documents.
Mobile repairing
We have designed this course to build up the capacity of employment in the field of mobile handset repairing. The course includes generations of mobile phones, components used in mobile handsets, mobile phone hardware troubleshooting, installation of software, flashing, etc.
Accounting
Learn the technical skills of analyzing financial statements and disclosures and how the financial reporting process is impacted by accounting standards and managerial incentives.
Printer repairing
This course emphasizes practical training in recognizing and repairing problematic parts of printers.